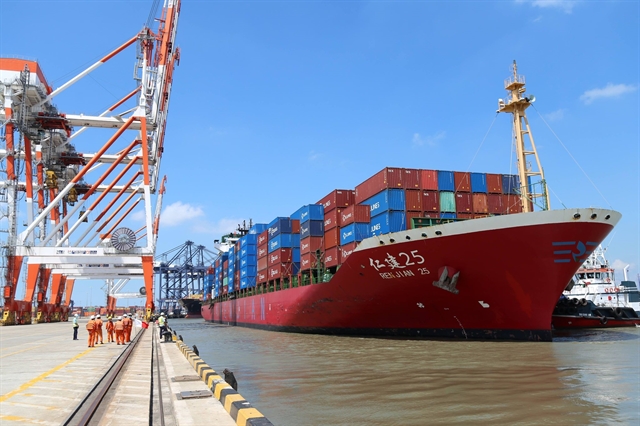 Compiled by Thiên Lý
In December last year, the HCM City People's Council issued a resolution on collecting fees for using infrastructure facilities and public services at local ports.
The fees, to be collected from July 1 this year, will be used to develop roads near the ports to easing the growing congestion and enhance goods transport capacity.
For goods imported for re-export or deposited in bonded warehouses and transit and transshipment goods declared outside the city the rate will be VNĐ2.2 million for a 20-foot container, VNĐ4.4 million (US$190.8) for a 40ft container and VNĐ50,000 per tonne for liquid and bulk cargo.
For imported and exported goods declared in the city, the fee will be around VNĐ250,000 ($10.8) for a 20ft container and VNĐ500,000 ($21.7) for a 40ft container. For liquid and bulk cargo, it will be VNĐ16,000 ($0.7) per tonne.
The city expects that it can collect about VNĐ3.2 trillion ($138.8 million) of infrastructure fees at local seaports a year, and the revenue would increase in the following years based on the volume of goods.
All the fees are to be made online to the Port Authority of Inland Waterway.
The fee collection will start at the Cái Lái Port, a container terminal.
In 2019, the throughput of goods through the city's ports was 170 million tones, and it is forecast to increase to nearly 237 million tonnes by 2030.
However, opinions are divided about the need to impose the new fees.
HCM City has four major ports – Cát Lái on the Đồng Nai River, Nhà Bè on the Nhà Bè River, Hiệp Phước on the Soài Rạp River, and Saigon on the Sài Gòn River – that play a vital role in the transportation of goods between the Southeastern region and the Cửu Long (Mekong) River Delta.
Besides, the city also has dry ports, customs inspection areas, container freight stations, and bonded warehouses.
According to the city Department of Transport (DoT), which proposed the fees, the collection of infrastructure fees has become imperative because the large volume of goods transported through the city's ports is putting huge pressure on transport infrastructure.
Road around ports have not been developed commensurately for many years now due to a lack of funds, resulting in their deterioration, congestion, air pollution, and, finally, increased logistics costs.
The new fees would help mitigate all this and improve goods transport capacity, the department said.
A transport infrastructure development project for 2020-30 approved by the city Party Committee will require $41.8 billion.
Of the amount, around $20.5 billion will come from the city's coffers, and the rest from the Government, official development assistance and public-private partnerships.
Bùi Hòa An, a deputy director of the DoT, said the budget earmarked for transport infrastructure in 2021-26 would meet only 24.6 per cent of the requirement.
DoT director Trần Quang Lâm said in addition to helping upgrade transport infrastructure near ports, the new fees could also help ease overloads at Cát Lái and other ports by prompting businesses to think about switching to ports elsewhere like Cái Mép-Thị Vải in Bà Rịa-Vũng Tàu Province.
However, the Việt Nam Association of Seafood Exporters and Producers (VASEP) vehemently opposed the introduction of the fee, especially at a time when COVID-19 is still raging, since it would put pressure on the fisheries sector, 70 per cent of whose import-export goods pass through the city.
It wants the fee delayed until December 31 by which time the pandemic is hopefully under control.
It said authorities should consider reducing the fees and not see them as a source of revenue.
It also wanted the city government to make regular and transparent reports on the collection and spending of the fees.
A spokesperson for the Việt Nam Logistics Business Association concurred with all this, saying the fees would cause a severe impact on businesses, especially those in foreign trade and logistics.
The Việt Nam Textile and Apparel Association (VITAS) said logistics costs in Việt Nam are already high at 20 per cent of GDP, while in other countries in the region they are only 9-14 per cent.
According to the International Monetary Fund, globally, logistics costs account for 12 per cent of GDP.
The high costs already drag down the competitiveness of Vietnamese goods, and the additional fees would further reduce it, and act as an obstacle to entering new markets, VITAS said.
Analysts said many cities and provinces seem to work at cross purposes with the Government, pointing out that while the latter has been making efforts to reduce logistics costs to 16 per cent of GDP, the former always want to increase fees.
Huỳnh Thị Mỹ Nương, director of  a company specialising in provision of  leadership training service, was quoted as saying by Business newspaper that many businesses are facing difficulties related to finance and supply chains due to the continuing impacts of the pandemic.
So the new infrastructure fees at ports would only pose more challenges to their survival and recovery post-pandemic, she said.
The CEO of a seafood export company in the Cửu Long (Mekong) River Delta said businesses like his already pay several kinds of fees for BOT, environmental protection, cargo handling, and storage. The infrastructure fees would only make things harder for them, especially with COVID already affecting execution of customers' orders.
Nguyễn Hương, director of Gold Cashew Company Limited, said what agricultural export companies including hers desire is to have logistics costs cut, especially fees related to maritime transport, since they are at such high levels.
They could be more competitive if the fees are adjusted downwards, helping reduce costs, she said.
Analysts said while collection of the maritime infrastructure fees is necessary, it should be implemented with a proper roadmap which is outlined in a way that can still enable the city to raise fund for upgrading infrastructure system at the seaport areas but also not to put pressure on import and export businesses. — VNS
vietnamnews