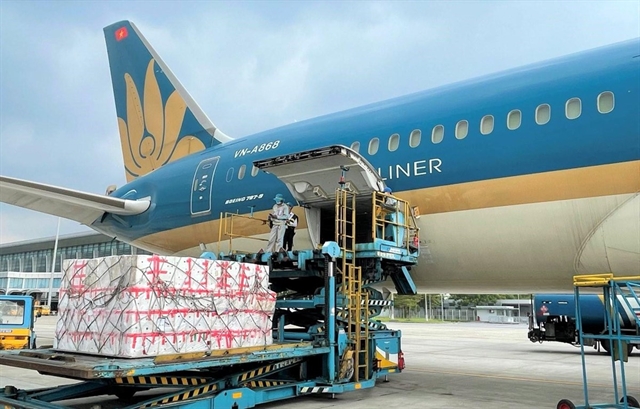 HÀ NỘI — The Civil Aviation Authority of Vietnam (CAAV) has asked the Ministry of Transport (MoT) to deny a request from Import-Export Pan Pacific Group (IPPG) for permission to establish a new air cargo carrier in Việt Nam.
"This action [to deny the request] is one measure to minimise the possible imbalance in the supply and demand, in the local market and the sustainable development of Vietnam's aviation industry, as a result of the COVID-19 pandemic," CAAV's deputy director Đinh Việt Sơn said it documents submitted to the ministry.
CAAV said that at present, local airlines were carrying out cargo flights to make up for the low demand for passenger air-transport due to the pandemic.
As of June 28, 2021, local airlines have removed the seats of passenger aircraft to carry cargo. This includes five planes belonging to the national carrier, Vietnam Airlines, and four belonging to VietJet Air. Some aircraft have also been allowed to carry goods in the cabin without removing the seats as long as they have no passengers on the same flight.
According to CAAV, the proportion of revenue from freight transport, as part of total revenue from air transport, during the pandemic, increased three-fold.
Last month, the Import-Export Pan Pacific Group (IPPG), chaired by Johnathan Hạnh Nguyễn, asked for permission to establish the country's first cargo airline at a total cost of VNĐ2.4 trillion (US$100 million). This cargo carrier would serve to meet the increasing demand for air transport in the Southeast Asian nation.
A representative for IPPG said local logistics firms have not yet reached their full potential. There are 30,000 logistics enterprises operating in Việt Nam and that accounted for less than 20 percent of the market. The remaining 80 per cent is held by just 30 foreign companies.
The representative added that Việt Nam has no carrier specialising in air-cargo. They said that 88 percent of the market is in the hands of international cargo airlines such as UPS, FedEx, DHL, Cathay Cargo and Airbridge Cargo.  The cost of transporting goods in Việt Nam is much higher than the global average, which leads to low competitiveness.
If IPPG's proposal is accepted the company hopes to transport about 115,000 tonnes of cargo, generating revenue of US$71 million in its first year. It aims to turn a profit by its fourth year of operation.
In April 2020, the International Air Transport Association (IATA) forecast market demand would decrease by 80 percent in the near future, threatening 25 million jobs in the aviation sector.
According to the most optimistic scenario, the Vietnamese air transport market in 2022 could only equal the numbers recorded in 2019.
CAAV affirmed it would continue to monitor the market and the impact of the pandemic and report to MoT on the possibility of establishing a new airline in the future. — VNS